Committed to tradition
Aust & Hachmann is one of the most traditional Vanilla traders worldwide. For more than 130 years we have been supplying the best qualities to our clients.
Due to the high quality of our products and the tradition of our company we have longtime relationships with our clients and suppliers.

MORE THAN 130 YEARS AUST & HACHMANN
Aust & Hachmann was founded in 1881 by Herrmann Aust and Rudolph Hachmann (picture). For more than 130 years, Aust & Hachmann has imported vanilla beans from all vanilla producing countries worldwide.
QUALITY CONTROL
Quality control by the owner in 1955. In this picture Herbert Hachmann is checking the quality of the vanilla beans.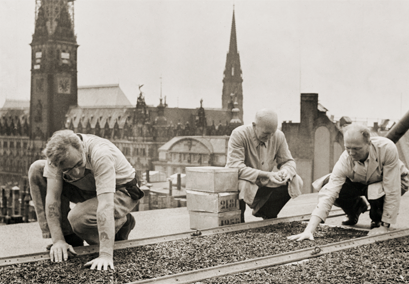 DRYING ON THE ROOF TOPS OF HAMBURG
Vanilla beans being dried on the roof top of the office of Aust & Hachmann, Hamburg (photo in the early 1950's).
VANILLA BEANS BEING SHIPPED IN MADAGASCAR
In former times vanilla beans were shipped in wooden crates for the long trip from Madagascar to Hamburg. Picture of the loading of vanilla on an ocean liner (Madagascar, in the early 1960's).
FAMILY BUSINESS
The company has been continuously owned by the family since its founding and is today managed by Berend Hachmann in the third generation. Aust & Hachmann is also successful with a subsidiary in the North American market through Aust & Hachmann (Canada) Ltd.